I first came across Scott Berkun's work when Joel Spolsky recommended Making Things Happen, Scott's excellent book on project management. I continued my adventure through Berkun's back catalogue with Confessions of a Public Speaker which I found very enlightening. I have now read his latest published work: The Myths of Innovation, published by O'Reilly Media.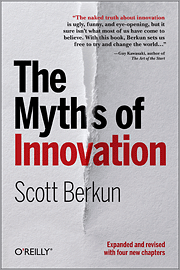 This book attempts to discredit the numerous inaccurate ideas about innovation that are both written about in other books, and commonly held beliefs in the wider public. He shows that innovation is not a formulaic concept that can be copied at will, nor something that just happens when you decide you want to be "innovative". It is also rarely the case that a "lone inventor" beats the odds to produce a world-beating product.
One of the other major myths that he dispels is that of the "eureka moment" – the sudden spark that resulting in a complete idea overnight. Instead, most innovations are the result of many years of hard work on improving and productising ideas that may have first seemed like irrelevances. The myth of snap innovation continues to be perpetuated because these ideas are often revealed to the world as a complete concept, without showing the hard work that has been done behind the scenes to get there.
Berkun looks at what kinds of corporate environments produce the seed ideas that are required at the start of this process, as well as allowing those ideas to incubate over the course of many years to reach a successful conclusion. He looks at examples of companies that have made extremely successful businesses out of this type of innovation (e.g. 3M, Google) to see what they do differently from those companies that merely pay lip-service to innovation in their mission statement.
Finally, Scott takes us through some ideas around how to think creatively, how to get your ideas noticed and keeping yourself motivated throughout a process that might last a lot longer than you expect.
Overall, I enjoyed this book. I read it over the course of a few days on my Kindle on my commute to and from work and found myself eager to get on to the train so that I could continue reading. If you have a role where you need to come up with ideas in any capacity, this book will give you a real insight in to the best ways to do that. Even if you don't have a job that requires you to produce structured innovation right now, I still recommend this book to you as it will help you to see where you can innovate regardless, both at work and in your home life.
Recommended.
The Myths of Innovation is available to purchase directly from O'Reilly, Amazon [UK; US] or from your local friendly bookshop.
(Disclaimer: The Myths of Innovation was provided to me free of charge by O'Reilly for review purposes, but I assure you that my views on it are genuine.)